P1
In September and October P1 were looking at the topic 'All about me!'
We discovered a lot about ourselves and how we are all different.
We looked closer at where we live, how we grow, what we like and don't like and how to look after ourselves.
We found out all about our 5 senses and used them to explore our environment and find out more about the season of Autumn.
We now know what makes a healthy lunch, how to keep ourselves safe and how to keep our bodies fit and strong!
P1 have made a great start to our school this term! We are really enjoying staying until 2pm and learning about new sounds and numbers. We are exploring our playroom and joining in with P.E. and football.
We love all the new and exciting things that happen in school!
We love singing and dancing in our class, we even performed in front of our whole school and family members at the Harvest Assembly!
In November and December our new topic is 'Toys!'
We will look at the difference between toys in the past and toys in the present.
We will talk about and show our favourite toy to the class and see how our toys work and move. We will also look at toys from around the world and Christmas traditions.
We will also be taking part in our Christmas Nativity. We will be performing on stage and singing with lots of exciting actions!
Autumn Play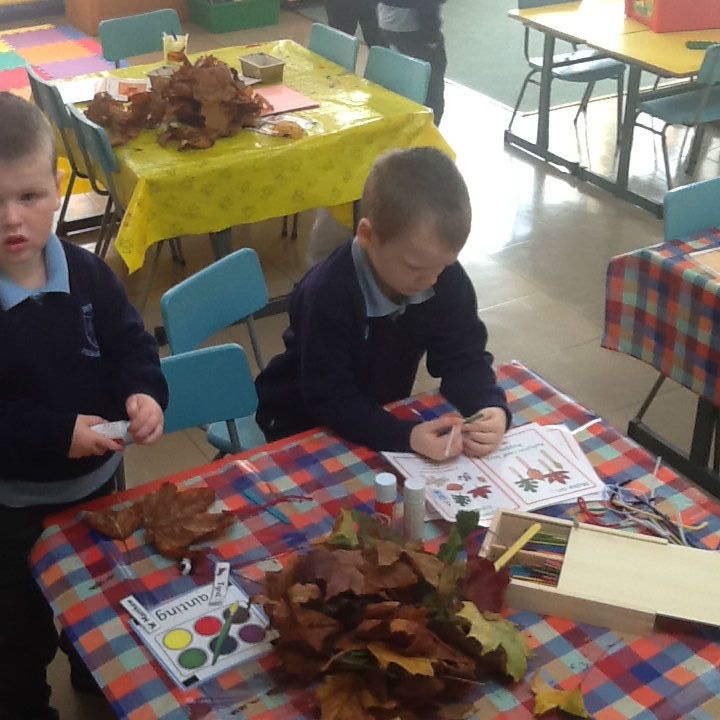 P1 have been learning all about the world around them. We are looking at the signs of Autumn and discovering how we can use what we found on our Autumn Walk for Play. Have a look..
WOW wall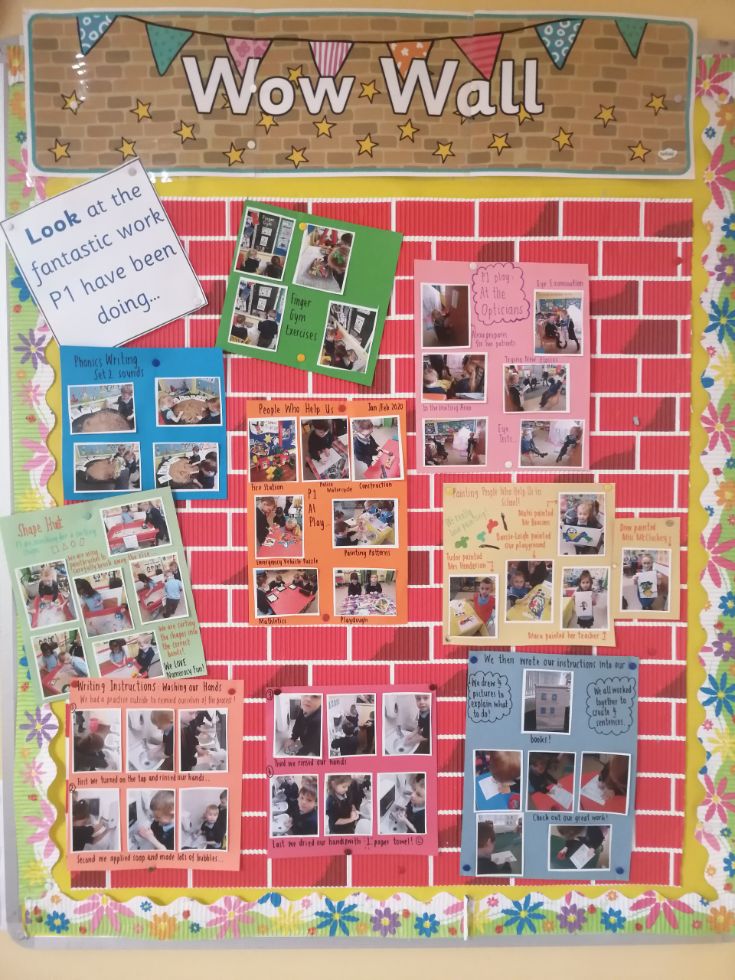 Don't forget to check our Wow wall when you come to visit the P1 Classroom!
We have been working so hard this term and our teachers are so proud of us!
High Five Password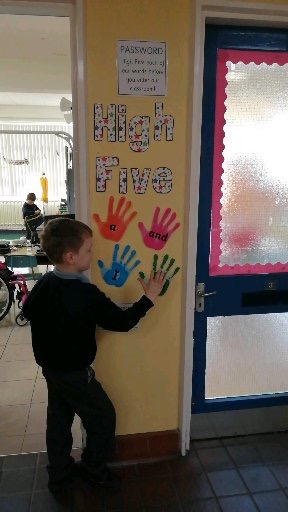 Primary One are learning to recognise and read our High Frequency Words.
We have created a special password to enter the P1 classroom.
Every child must High Five and say the 4 important words of the week.
The password changes every week so P1 have to be on their toes!
Watch Matthew in the video below, he's an expert already!
P1 at Play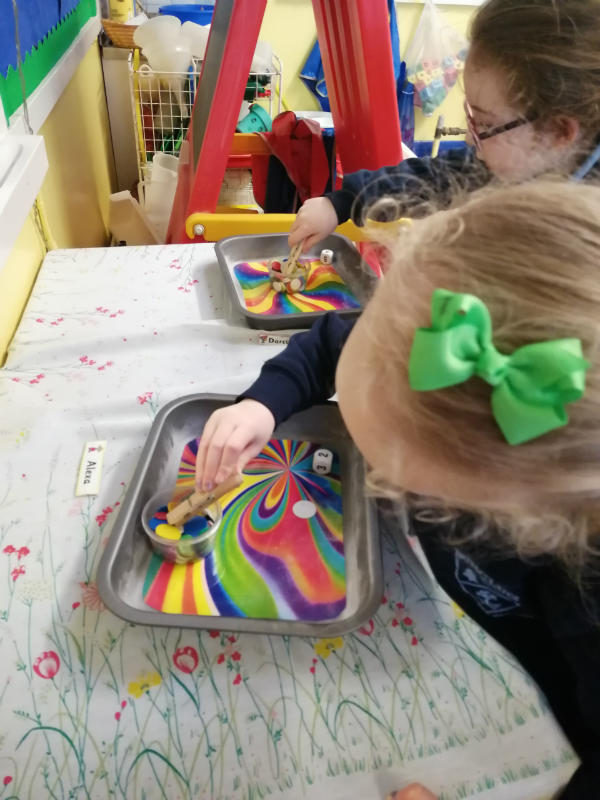 Finger Gym Exercises
We are at the Vets
Tyrel and Rhys are the Vets today
This week we are counting and exercising our fingers
Tyrel showing his Vets equipment
Elisa and Nina are having fun with play dough!
Getting some Mathletics practise in
We love these tasks!
Some of our buildings. we made a fire station and a factory. We are great builders
More workouts at the Finger Gym
Mara is making playdough bricks
We love to work together to complete puzzles
Practising our Set 2 Jolly Phonics
Writing in the sand
Drawing some emergency vehicles
Painting with sponges
We like to experiment with colour and texture
We are at the optician today
Matthew is trying out his new glasses
Lovely work Matei!
Rhys is drawing the police motorcycle
Drew is pretending to be a mechanic
He's making a car
Lovely painting Mara
Alexa is testing Khaleesi's eyes
Karim and Khaleesi are in the waiting area
Very nice glasses Tudor!
Khaleesi checks Ronan's eyes
She's a great optometrist
Making sure Ronan can read the letters
Primary 1 Mathletics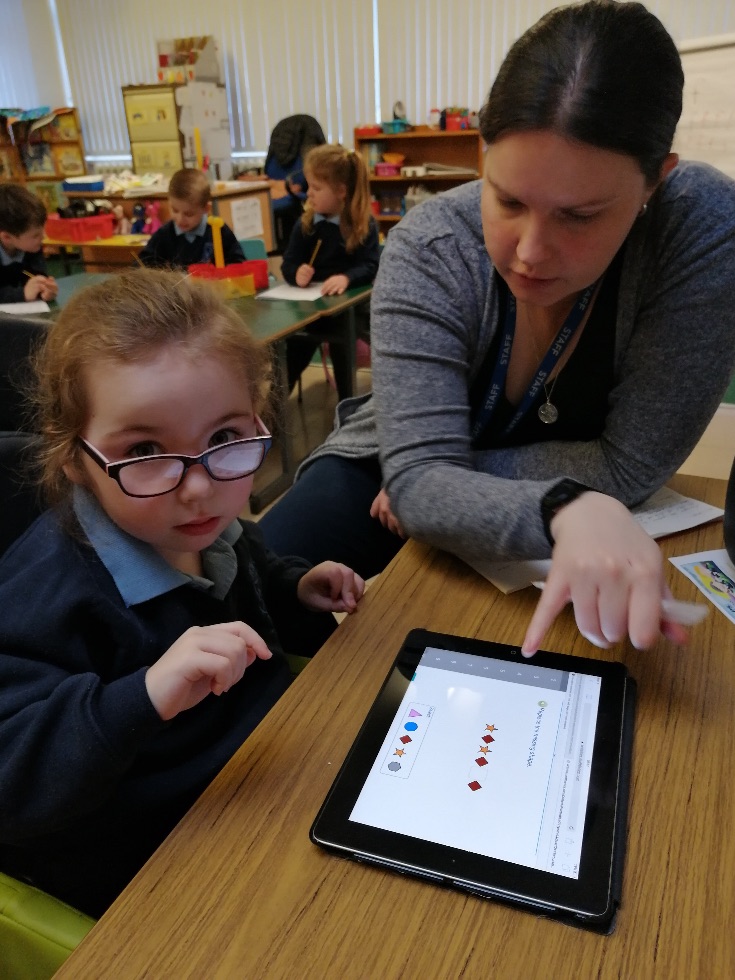 This week Primary One have started Mathletics!
We love all the numeracy activities that we can explore in school and at home! This week we are using the iPads in class to complete tasks based around pattern! This makes learning Maths facts so much more exciting and enjoyable.
At home we can choose our own activities and earn points by completing tasks. We can even compete against pupils at different schools!
We have seen the older children in Dunclug Primary School receive certificates and rewards in Assembly for their hard work in Mathletics and we can't wait to join them!
People Who Help Us Topic
This Term Primary One are looking at the topic 'People who Help Us'.
We have been thinking about the people in our community and the many ways that they help us on a regular basis.
In our Play Based Learning this week we have been pretending to be Vets. Our receptionist takes phone calls and makes appointments, our vets treat the animals and the pet owners bring their animals for check ups. We have been having a lot of fun!
We have also been pretending to be builders. We build in the sand, with play dough, with lego bricks and building blocks. We have been making houses, shops, skyscrapers and castles.
We are learning Set 1 and 2 of our Jolly Phonics. In Play Based learning we get to explore these sounds a little more. We decorate sounds, make play dough sounds, hunt for them in our sensory bin, paint them and create collages with them.
We love to write. We work at our Finger Gym everyday. Each week there is a new exercise task. This week we are writing secret messages in the glitter salt. We practise our names and sounds at the writing table. We like to write on whiteboards and chalk boards using prompts to help us.
Have a look at the photos below to see some of the activities we have been enjoying.
Primary One Love Play Based Learning;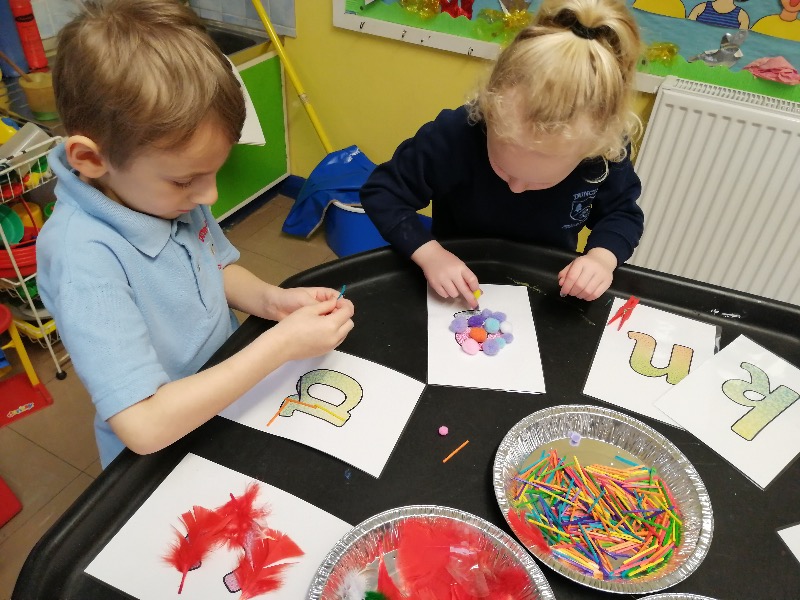 We are getting to know our initial sounds by decorating them
Primary love working on their phonics
Tudor has even made his own 't'
In Primary one we work together
We have been writing secret messages in our glitter salt
Finger gym helps us build up the muscles in our hands to help with writing
Alexa and Khalessi love writing messages to each other
We are pretending to be vets in our Role Play area
Elisa is helping to look after Nina's dog and check her heartbeat
Mara wants to be a teacher when she is older. She is painting herself as a teacher!
Rhys has been practising his letter formation
Great work Ronan!
Elisa and Tyrel are giving this cat some medicine
Karim is the receptionist..taking appointments for the vet
Tyrel has brought his cat in for a check up
Mara is looking to see who helps out at the farm
Drew loves to build with lego
We have some chill out time to read in the Sensory tent
Tyrel is painting himself and Ronan as Fire Fighters
We love our sensory bins
The boys are building 'sand houses'
We love lego
Primary 1 Getting ready for writing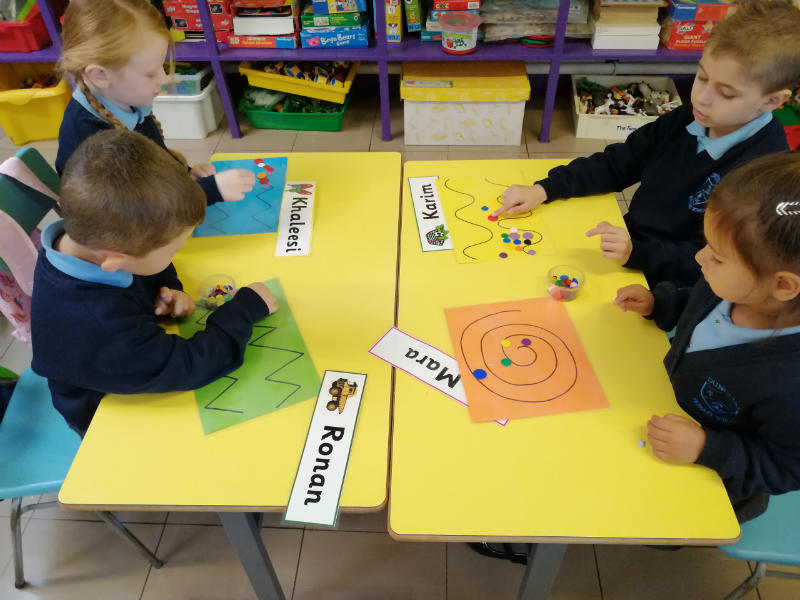 Autumn Walk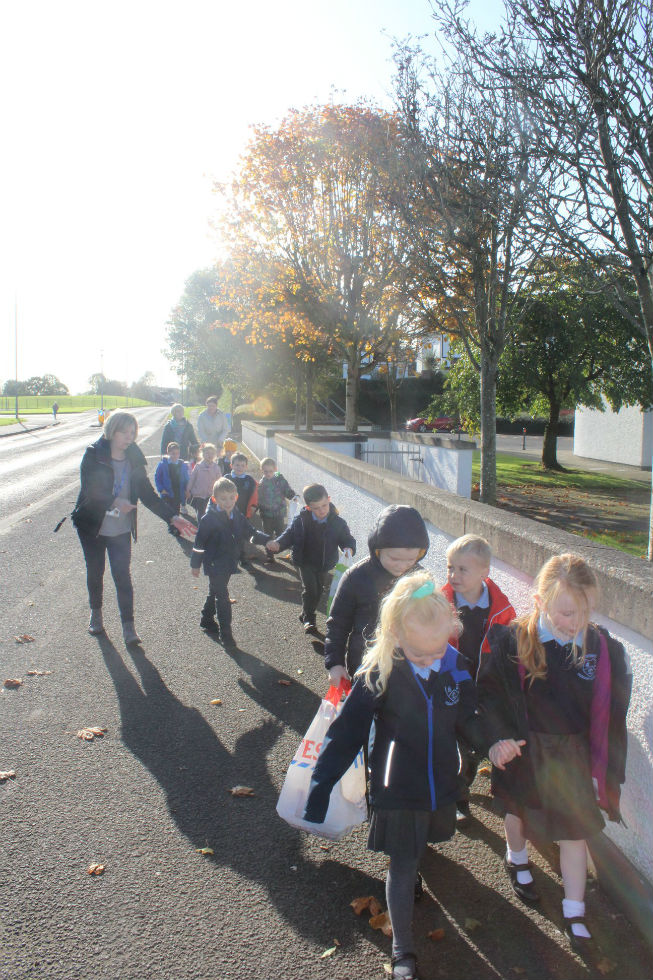 Our P1 pupils enjoyed their Autumn walk yesterday with Mrs Henderson! We found lots of different colours, shapes and sizes of leaves. We kicked and swished the Autumn leaves, then looked for as many different colours as we could find!
Latest Photographs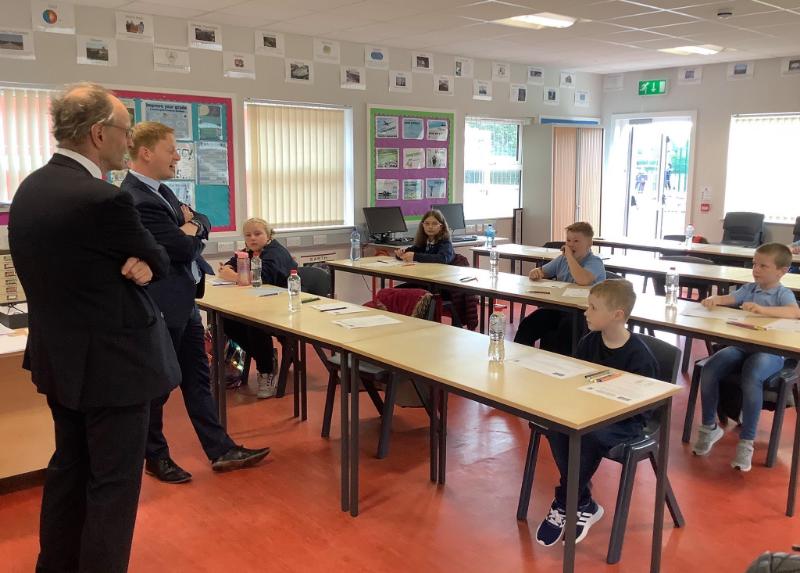 Dunclug Primary School, Doury Rd, Ballymena, County Antrim BT43 6SU | Telephone: 028 2565 2327