Primary 1
We are really looking forward to seeing our new Primary 1 children again.
Please bring :
a small break time snack and drink
PE slippers with Velcro fastening
a small hand sanitiser (optional)
We will provide each child with their own pencils, crayons and colouring pencils which will stay in school at their own desk.
Looking forward to seeing you all!
Mrs Spence
Play In Primary 1
Outdoor Play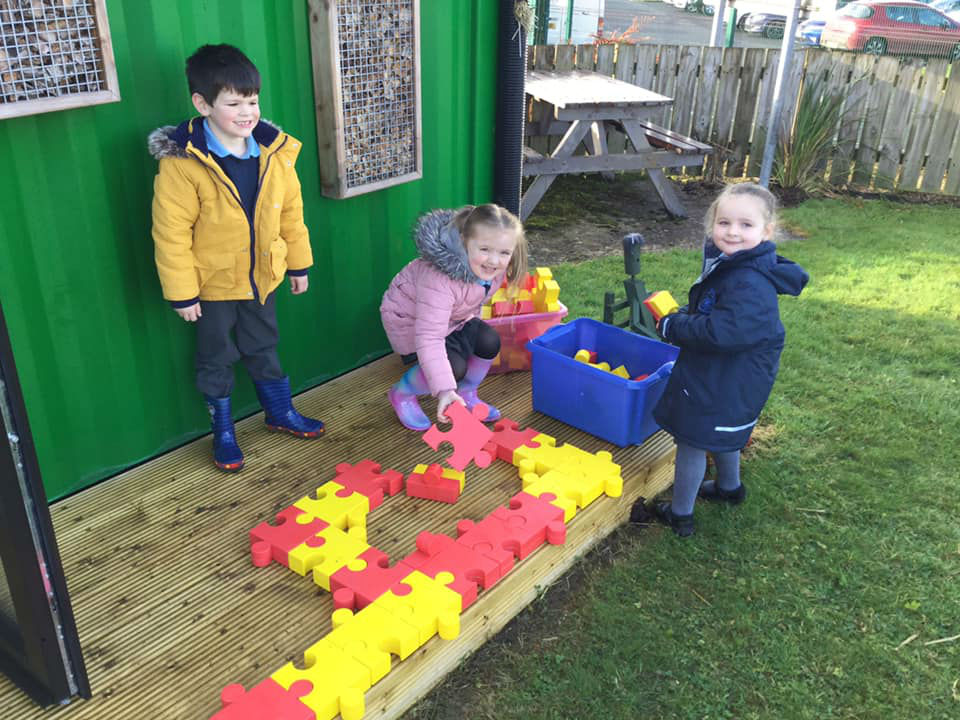 P1 have loved learning in our new outdoor classroom and mud kitchen. We created our own 'soup' recipes using natural materials from the garden. P1 have loved using the bikes and other outdoor equipment in the school play park.
Gymnastics Topic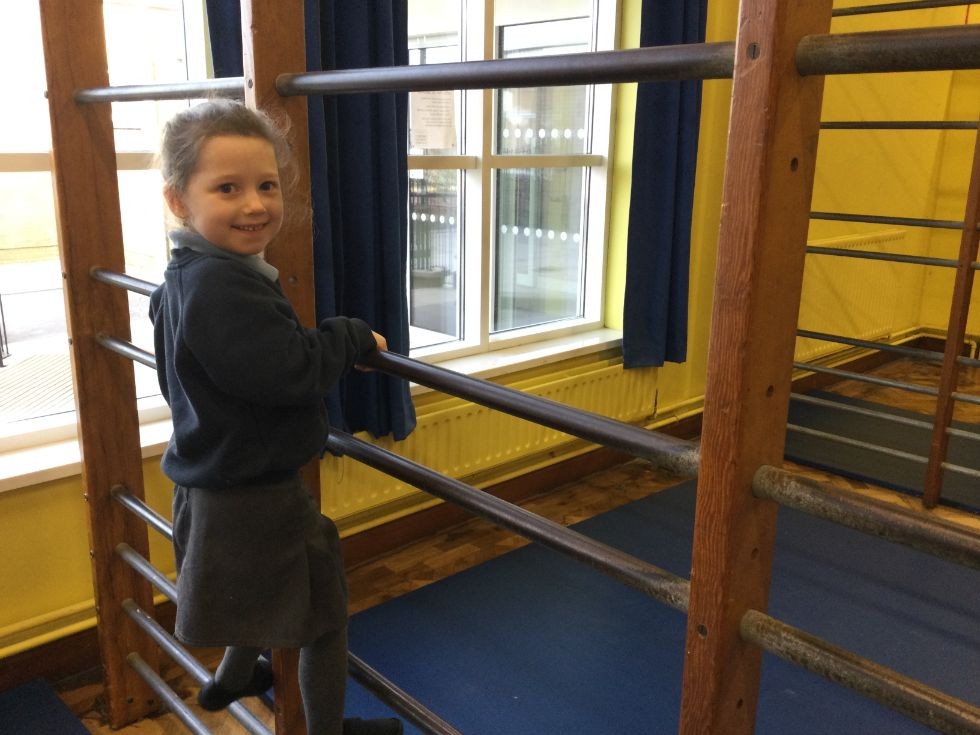 This term in PE we are taking part in gymnastics. We love playing on the gymnastics equipemtn - using our bodies to explore different ways to move along, over and under equipment. We think very carefully about making our body big and small.
Red Dress Fun Run 2022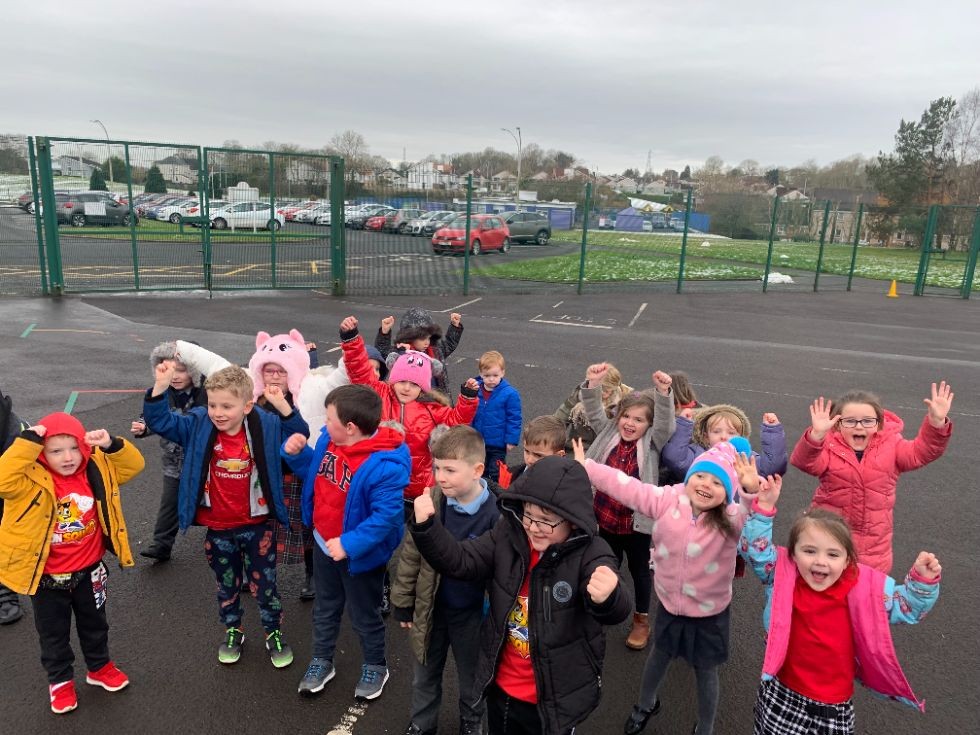 'From everyone at Northern Ireland Chest Heart & Stroke, thank you from the bottom of our hearts for taking part in the 2022 Primary Schools' Red Dress Fun Run. Almost 90% of NICHS's care services and research are funded exclusively by public donations and your fundraising efforts will help us keep taking steps towards supporting the one in five people in Northern Ireland who have a chest, heart or stroke illness.' - A message from the NI Chest, Heart and Stroke team.
The boys and girls had a great time running around outside in order to raise money for this important cause.
Forest School Visit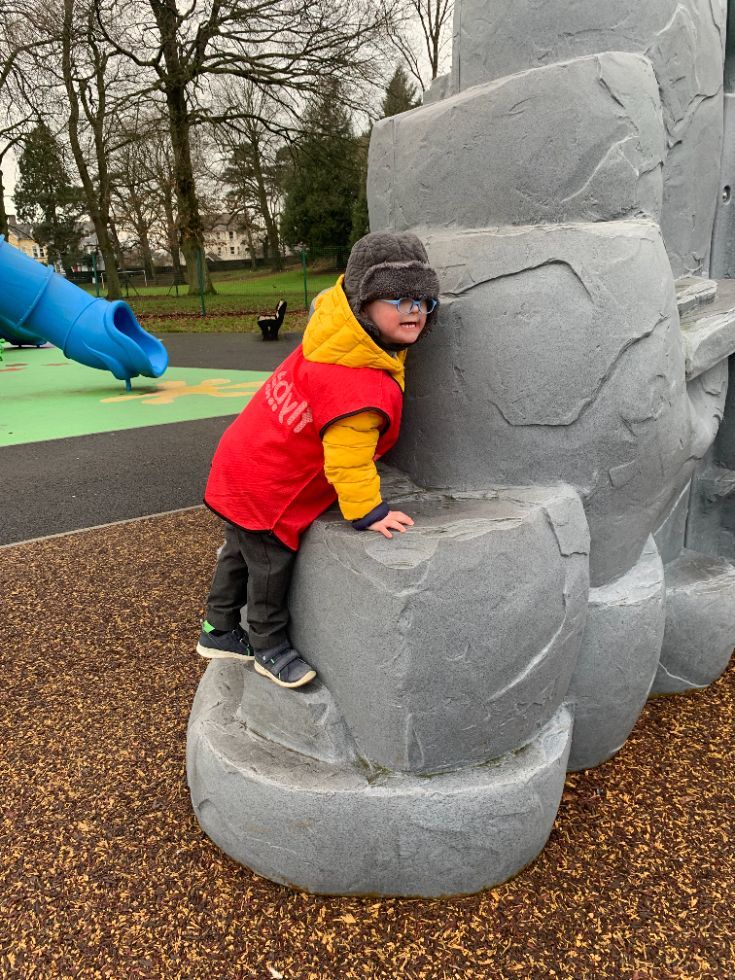 This week our P1 class walked to the People's Park where we had lots of fun making our own bird feeders. We used a pipe cleaner and some Cheerios to create a feeder that we could hang on trees in our own garden. We thought about what birds we could name and if we could spot any living in the park. Of course we made time to play in the park before heading back to school.
People Who Help Us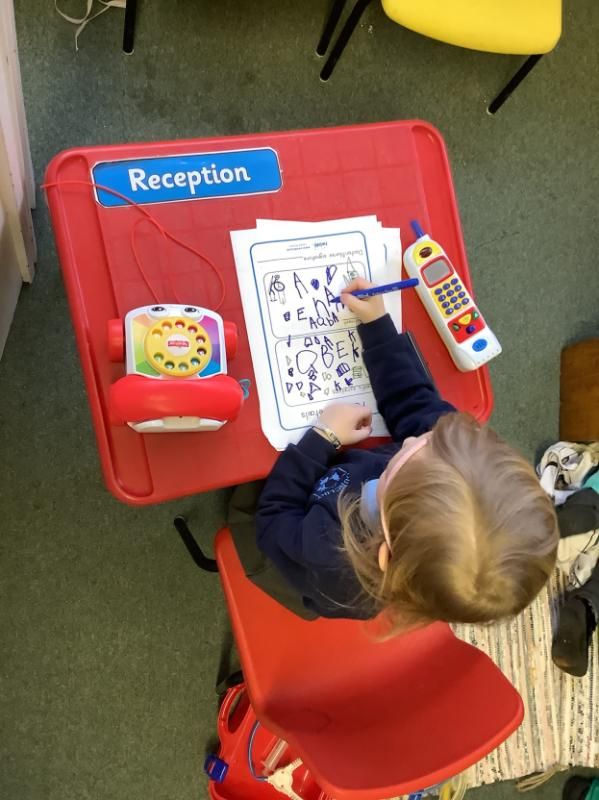 Mrs Claus' Hot Chocolate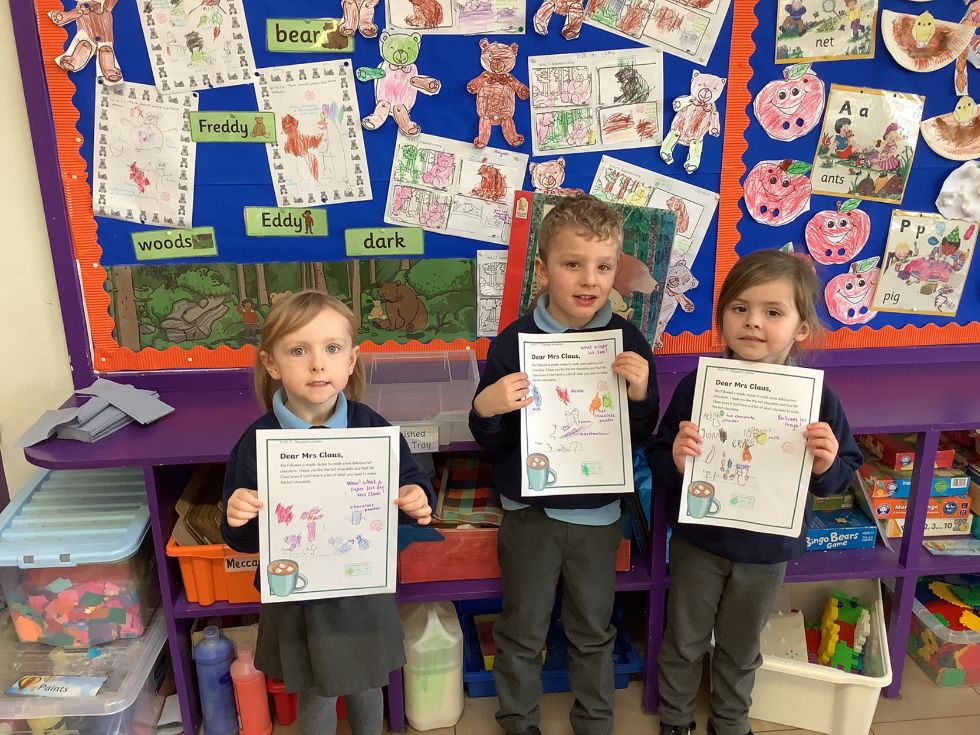 Last week, P1 received a very exciting letter in the post! Mrs Claus had written to P1 as she desperately needed their help. She had lost Santa's favourite hot chocolate recipe! P1 then followed a hot chocolate recipe and made some delicious hot chocolate. We then wrote letters back to Mrs Claus telling her what she would need to make our hot chocolate.
Posting Christmas cards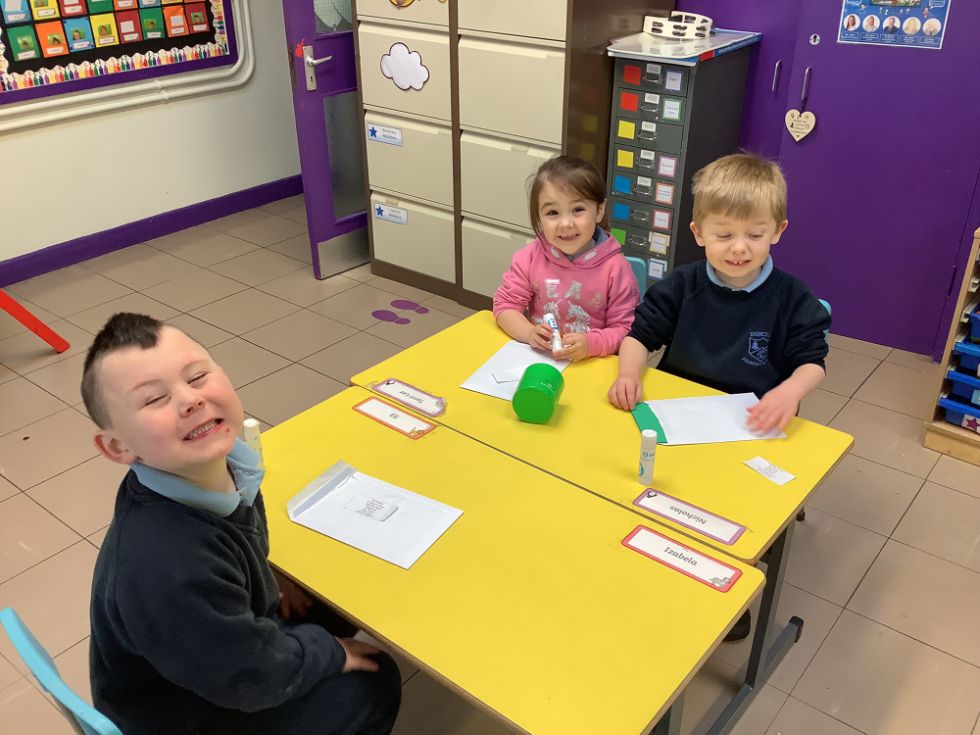 What an exciting day in P1! Today we visited the local postbox to post our handmade Christmas cards. We read the story of the 'Jolly Postman' to help us to learn how to send messages and letters. We then packaged up our cards, making sure each had an address and a stamp on the envelope. After that, we posted them at the local postbox. Now all we have to do is wait for the postman to deliver them to our homes!
Literacy Autumn Walk
Our Favourite Toy Show and Tell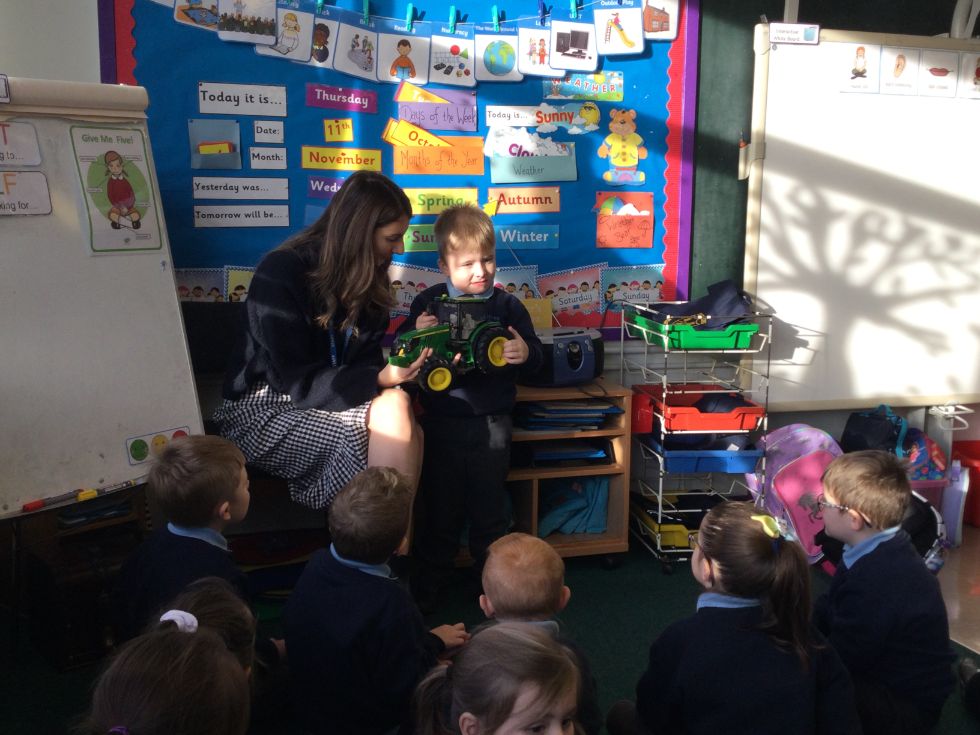 This term P1 are exploring the topic of 'Toys'. As part of this topic the children brought in their favoruite toy and showed it to the class. They talked about why this toy is their favourite toy and then the children asked them questions abou their toy.
'Toys' Topic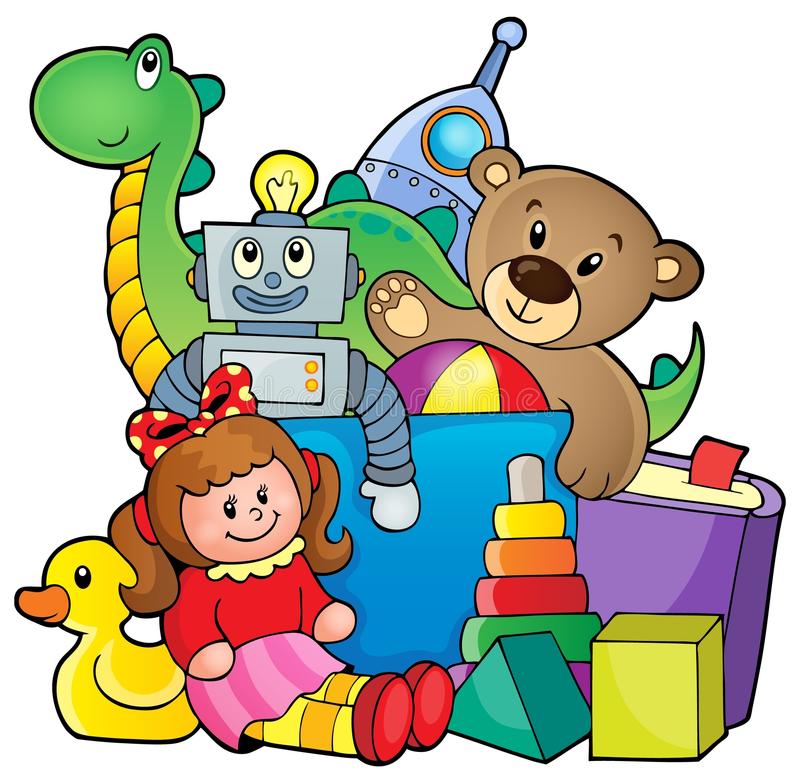 This term we are exploring the topic of 'Toys'. We will be looking at our favourite toys, comparing old and new toys and exploring the materials that toys are made of.
Making porridge in Literacy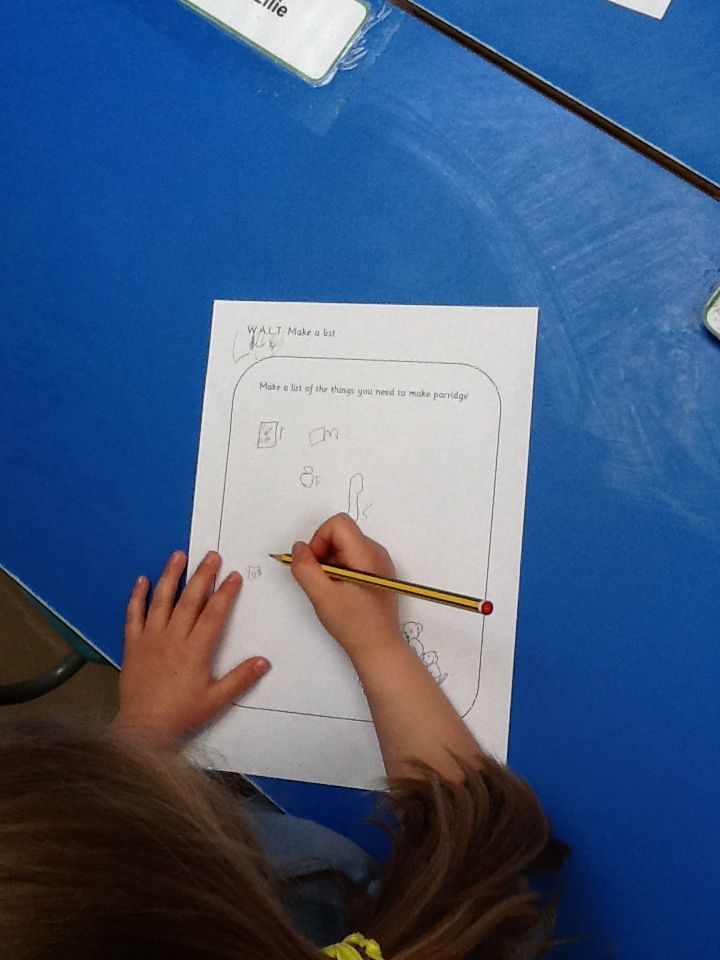 P1's topic for this term is Fairy-Tales. This morning we read the story of Goldilocks and the Three Bears. We then followed instructions showing us how to make porridge. Take a look at the pictures of us making our porridge. After eating out tasty porridge we then made a list of all of the ingredients you need to make porridge!
Forest School Learning with P1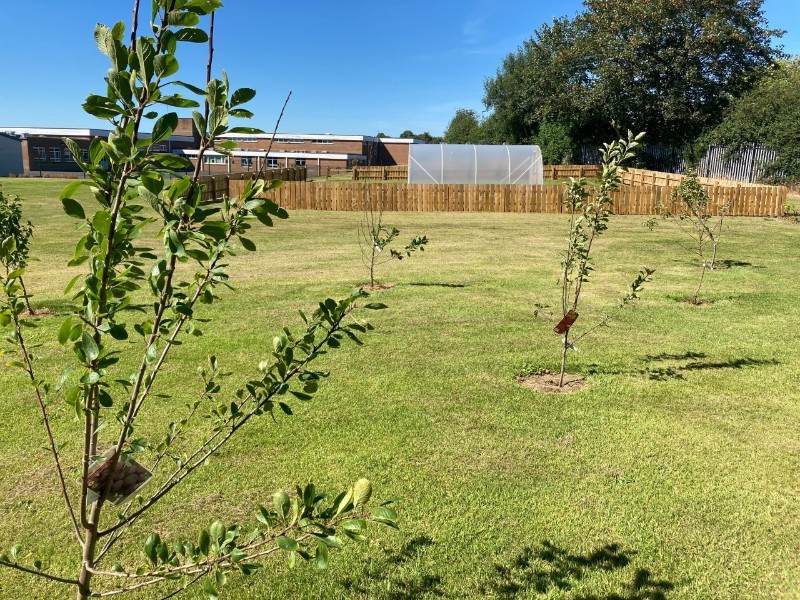 On Thursday P1 traveled to the People's Park to take part in some forest school activities. They made 2D shapes out of natural materials in Numeracy and looked for signs of spring as part of their Literacy lesson. Of course they had to play in the brand new park before returning to school. A great day!
Topic Work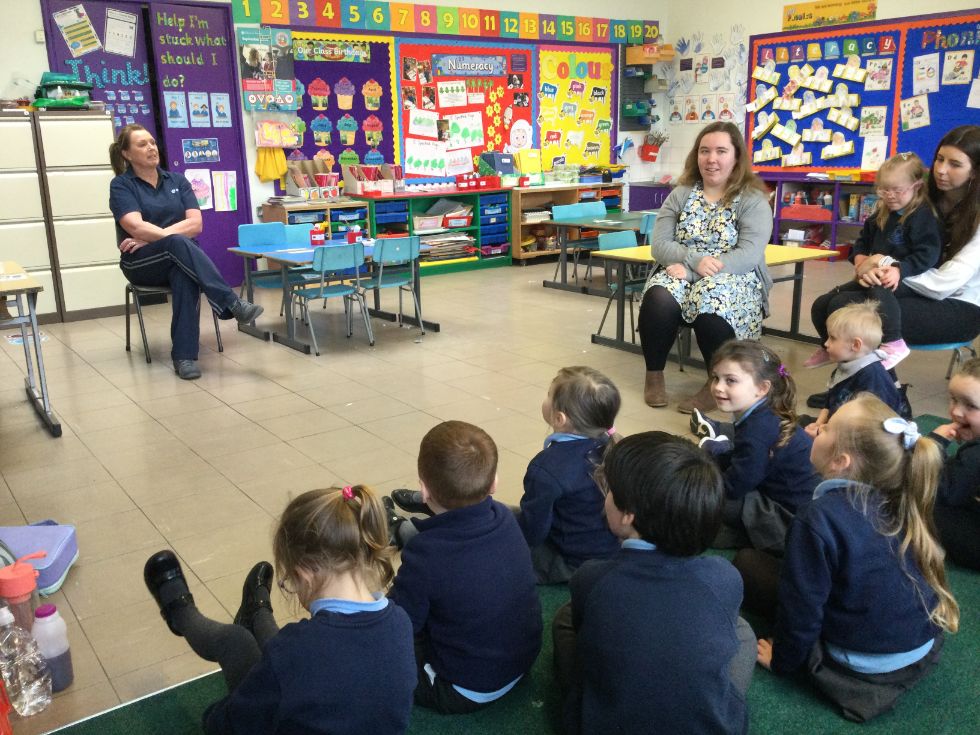 This week P1 have been learning about people who help us in our school. Today we learnt all about the role of a building supervisor. We talked to our building supervisor, Linda and asked her lots of questions about her job. P1 then imagined what it would be like to look after our school by cleaning our classroom.
People who help us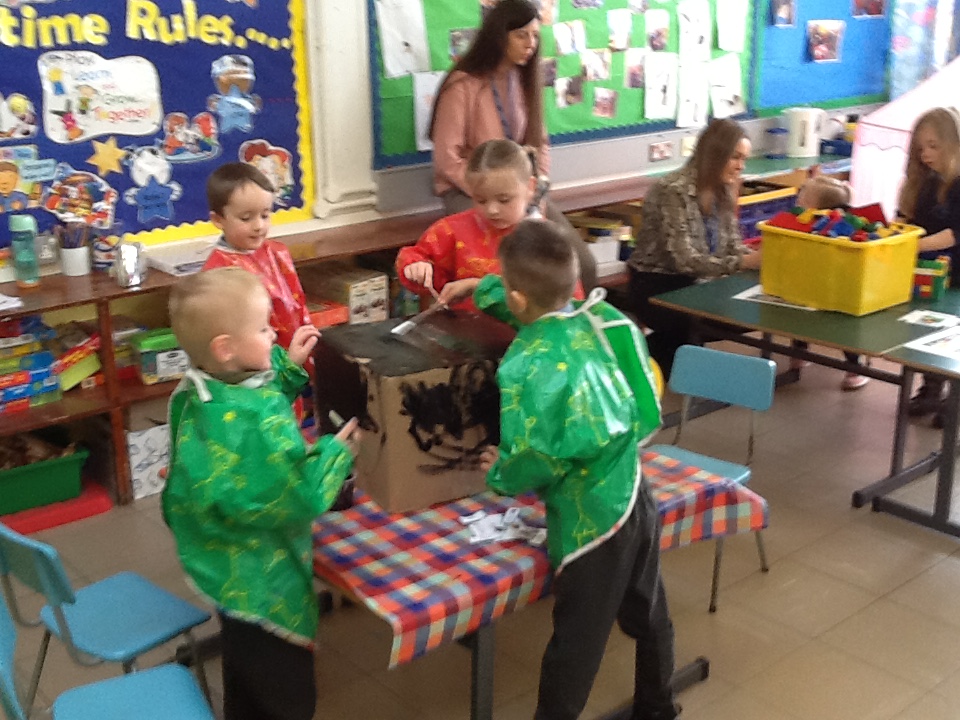 P1 have made a great start to their new world around us topic. They are learning all about 'People who help us'. P1 have loved taking on the role of doctors and nurses in the hospital and making fire artwork. Take a look at the pictures to see what P1 have been up to.
Christmas Jumper Day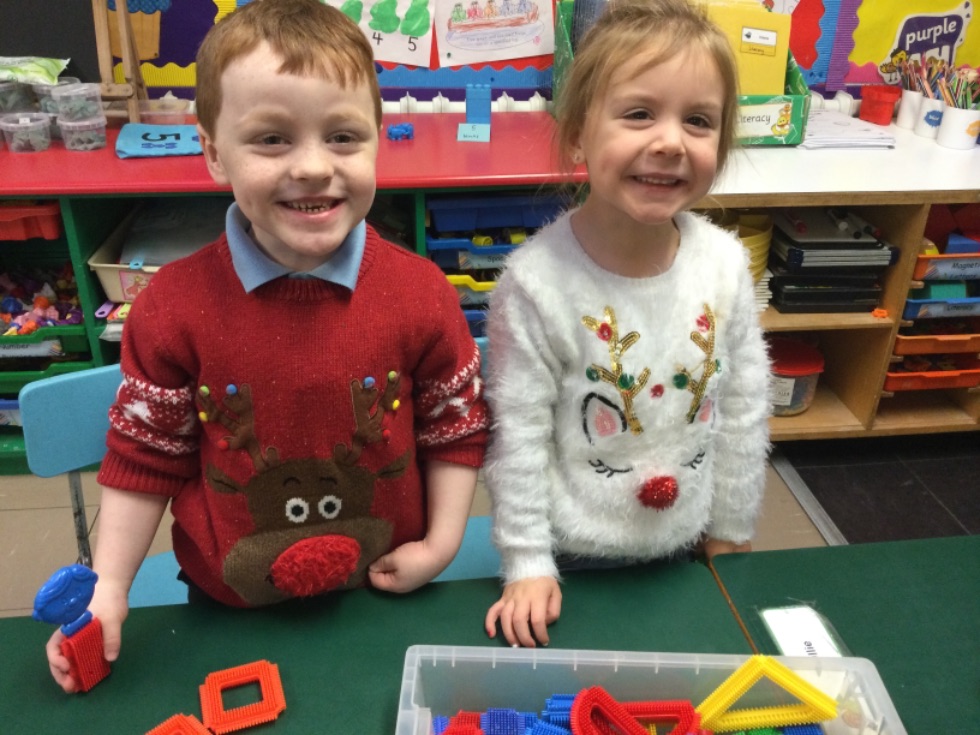 Primary 1 & the LSC loved wearing their Christmas jumpers. They got to take part in lots of activities for mental Elf day as well as receiving a yummy Christmas treat box for lunch! Lots of happy faces 😃
Christmas Nativity Play
Christmas Activities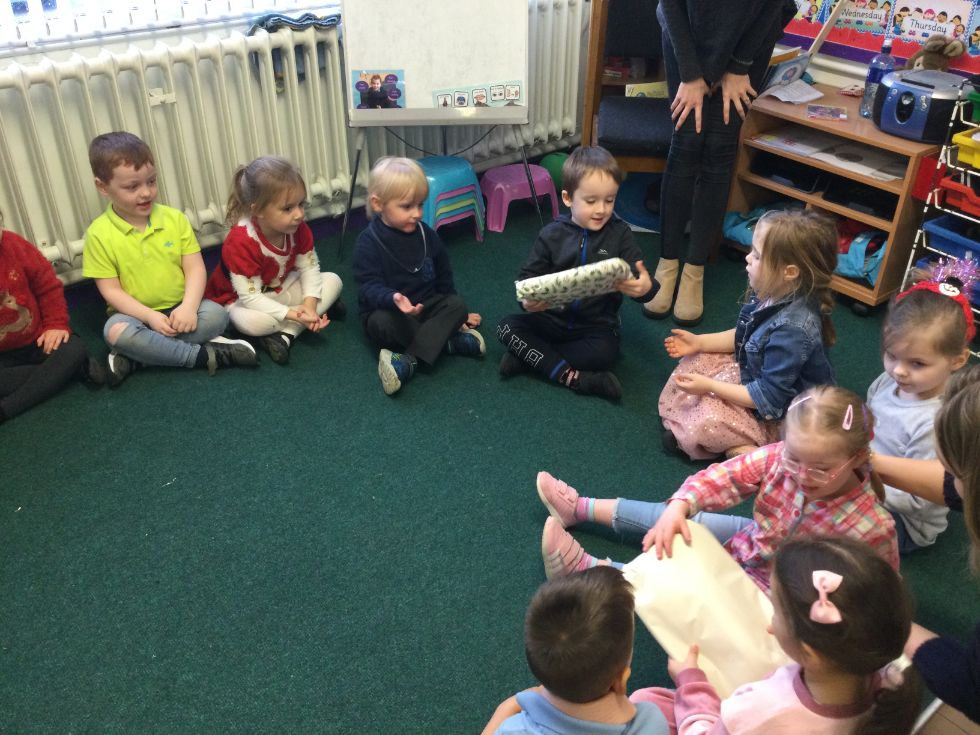 P1 had great fun taking part in lots of Christmas Activities linked to their Literacy and Numeracy topics. Today we worked on listening carefully and following simple instructions. We played a game of pass the parcel and when we opened each layer we were given an instruction to follow. In Numeracy we are exploring capacity and measure. We talked about full, empty and half-full as we measured out the ingredients for hot chocolate. We even toasted some marshmallows on a pretend fire on the IWB to put on top of our hot chocolate!
Play In P1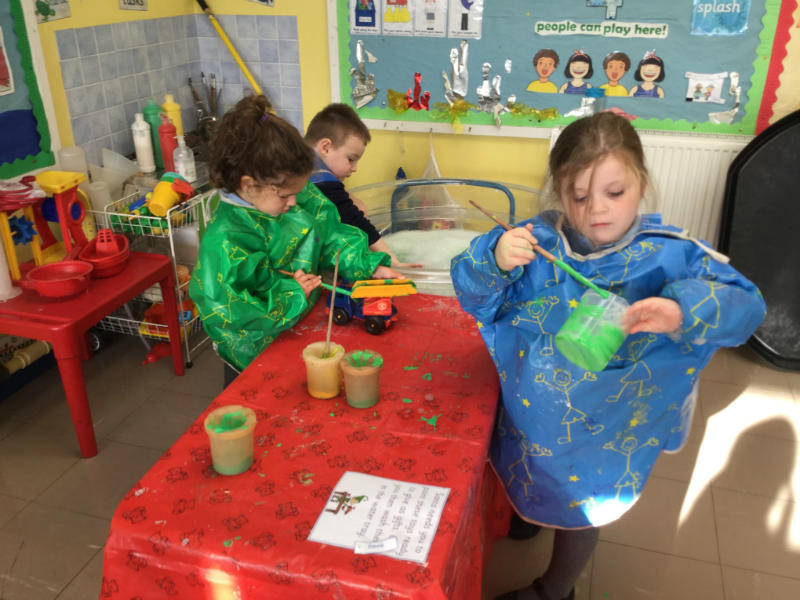 'Toys'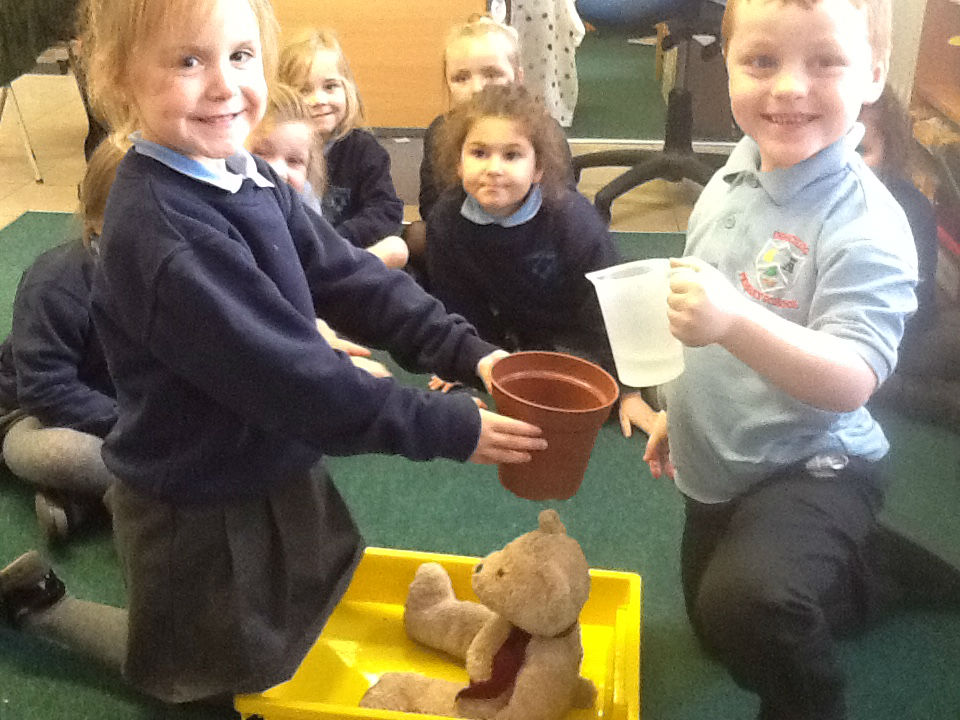 P1's topic for November and December is 'Toys'. We will look at the difference between toys in the past and toys in the present.
We will talk about and show our favourite toy to the class and see how our toys work and move. We will also look at toys from around the world and Christmas traditions.
Take a look at some pictures from our experiment where we tested materials to see which would be best to use to make teddy's umbrella.
High Five Password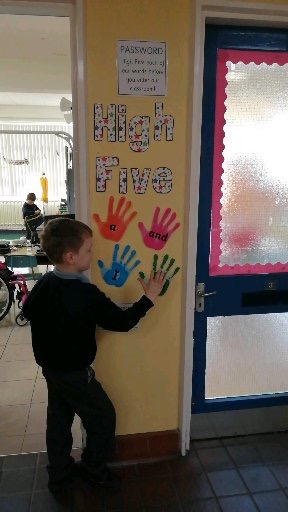 Primary One are learning to recognise and read our High Frequency Words.
We have created a special password to enter the P1 classroom.
Every child must High Five and say the 4 important words of the week.
The password changes every week so P1 have to be on their toes!
Watch Matthew in the video below, he's an expert already!
Latest Photographs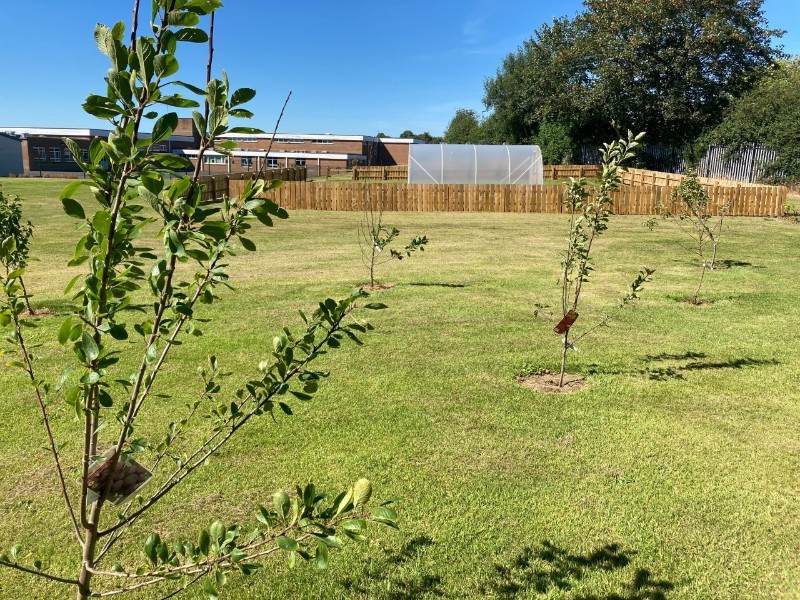 Dunclug Primary School, Doury Rd, Ballymena, County Antrim BT43 6SU | Telephone: 028 2565 2327